Filing a Claim
If you need additional information in filing a claim with ABF, click "L&D Claims Information Guide".
Enter the number you will be using to track the claim through your system. This is referred to as the "claimant reference number".
Enter the ABF pro number assigned for this shipment.
Select a freight type. This should be a "best fit" general description of the type of freight that was lost or damaged.
Provide the bill of lading date.
Enter your ABF account number. This will be automatically filled in if you are logged on.
Enter your contact information in the "Claimant Information" section.
If needed, provide the shipper and consignee information for the shipment.
Enter a specific word or phrase describing your freight.
Enter the quantity of freight damaged. Use descriptive words for this field like "skid", "palette", or "box".
Estimate the cost of the damaged freight. Use only digits 0-9, commas and one decimal (ex. 1,234.50).
At least one scanned image must be provided to submit a claim. Click the "Browse" button beside the document name you will be submitting. When the window appears, select the scanned image from your hard drive.
Include any additional comments you feel will be useful in helping to settle your claim.
Click the "Submit" button to file your claim with ABF. The uploaded images, along with the claim information, will automatically be sent to the ABF customer service department.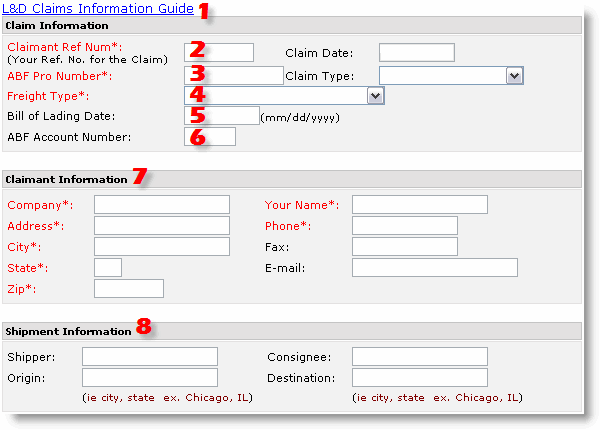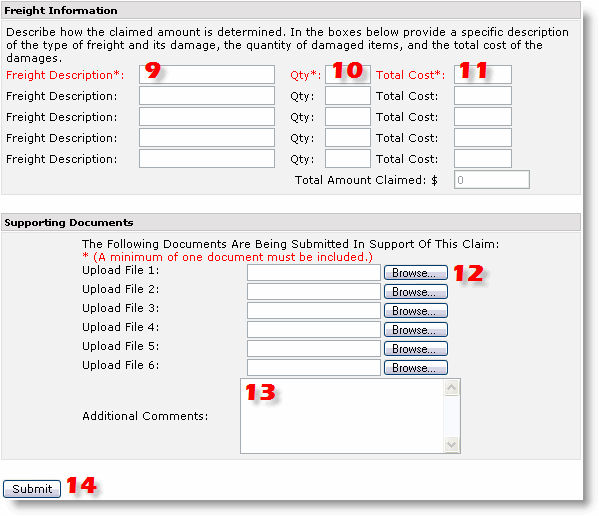 [Top]
How do I provide supporting documentation for my claim?

Supporting documentation for claims are provided by clicking the 'browse' button next to the item you intend to submit. This will bring up a window showing the files that are on your hard drive. Locate the file containing the supporting documentation you would like to send. Double click the file name. This will insert the file name from your hard drive in the text box next to the 'document type' you selected.

How do I get my supporting documents onto my hard drive?

There are several ways to get information for supporting documents onto your computers hard drive. Documents can be scanned onto your hard drive with a scanner. You can 'cut and paste' information from a web browser. You may screen print data from a mainframe terminal emulation screen into your hard drive.

Can I file a claim without supplying supporting documents?

No, the documentation you supply is critical to filing a claim on-line. ABF requires supporting documentation to be filed in order to support a claim. This documentation is required if you file by standard mail, fax or on-line.

What happens to the information I submit?

The claims form and supporting items are uploaded to ABF's claim processors and used to establish a claim number and help settle your claim.

What kind of documents can I send?

Currently, ABF will accept all documents that you feel will help support your loss or damage claim.

What formats are acceptable?

Currently ABF accepts all file formats with the exception of executable files (ex. .exe, .bat, .dll, .wsh, .vbs, etc).

Why do some claims take longer to file?

The amount of time it takes to file a claim is directly related to the size of the file(s) that are sent. Sending very large files means that it will take longer to process. You can speed up the filing process by sending smaller files. For example, save scanned images as a smaller file size.
[Top]