You can automatically receive real-time pickup and delivery notifications for all shipments to a select group of your locations. The shipments can include all shipments or strictly TimeKeeper shipments.
Using AutoTrack
You are the Regional Manager at XYZ Corporation and you want to see shipments from select locations in Oklahoma. Select the notification type (1). The list of XYZ Corporation locations are displayed. Select the locations you wish to receive notifications (2). Add the e-mail addresses of people to receive the notifications (3). Click Setup E-Mail Notification(s) (4).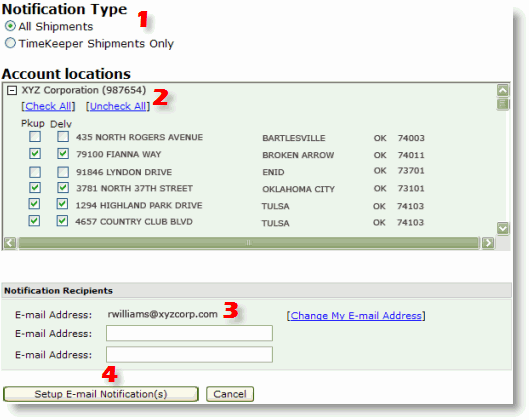 Your location selections can be changed at any time. The data you will receive via e-mail is real-time. The notifications can also be turned off, if necessary. Simply uncheck the appropriate boxes beside the location(s) to turn them off.