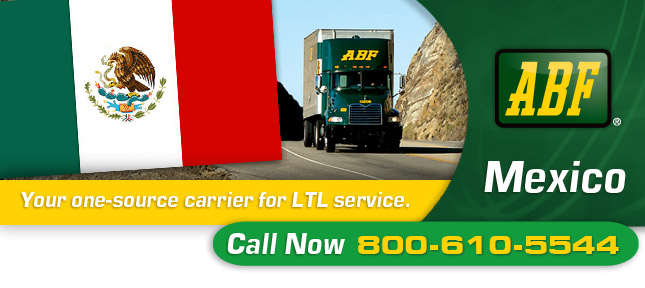 Mexico | Frequently Asked Questions | Coverage Information
Shipping to Mexico
For more than 30 years, ABF has been working with our neighbors in Mexico on shipments moving to and from that country. With all those years of experience, we make shipping to/from Mexico almost as easy as shipping domestically.
ABF services most major cities in Mexico through our alliance with one of Mexico's largest motor carriers. We offer the flexibility of gateway facilities located in El Paso, Laredo, and Rio Grande Valley, TX; Nogales, AZ; San Diego, CA; Guadalajara, Mexico City and Monterrey, MX. For superior service, coverage and flexibility in shipping to/from Mexico, ABF is the answer.
Our service provides....
Single freight bill including all freight charges.
Simplified rate structure.
Real-time shipment tracking.
Limited through-carrier cargo liability with optional excess coverage.
ABF's border terminal facilities and sales offices staffed with highly-trained, bilingual personnel.
Rate quotes and shipment tracking via ABF's eCenter of Online Tools.
Voice-response rate quotes and shipment tracking via Q-Line®.
Flexible terms of sale.
Hazardous materials service.
Payment in either U.S. dollars or in Mexican pesos.
Real-time data on wait times for border crossings into the United States.
Sales Office
Customer Contact
Phone Number
Laredo, TX
Ciro Gonzalez (Director)

956-722-0723
(Fax) 956-722-0216

Guadalajara
Ignacio Castellanos
Barbara Flores
011-52-33-3620-1421
(Fax)011-52-33-3628-4940
Mexico City
Vianey Gonzalez
David Santiago
Martha Aguirre

011-52-55-5355-6744
(Fax)011-52-55-5355-9443

Monterrey

Juan Jose Hernandez
Lupita Tamez
Judith Cordero

011-52-81-8300-3202
(Fax)011-52-81-8300-2608
Paperwork Requirements for Shipments to/from Mexico

The following documents and more are available online at ABF Forms & Documents.
Bill of Lading - Please include the final consignee and destination, along with the broker information.
U.S. Shipper's Export Declaration - For shipments with a value of $2,500 or more, or for shipments requiring an export license.
Legalized Commercial Invoice - One original plus 4 copies. This document should include the broker's name (or person clearing the freight at the border), shipper name, consignee name, and the value of the freight. All shipments into Mexico require a Mexican customs broker. All shipments out of Mexico require a U.S. customs broker.
NAFTA Origin - For any freight manufactured in the United States, Canada or Mexico.
Certificate of Origin - Required only if freight is manufactured outside of the United States or Canada (This document must be notarized).
800-610-5544