Why work for less... When you can work for the best?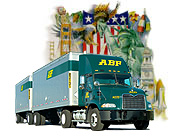 Would you like to work for a financially secure company with other dedicated professionals like yourself? Then join the ABF team!
ABF Freight System, Inc.®, a successful North American LTL motor carrier with 2010 revenues over $1.53 billion, is seeking self-motivated individuals to fill positions for:

Within this pop-up window, users may navigate through the various jobs openings that have been posted. NOTE: All available openings may not be posted at the time of review.
Close or minimize this pop-up window to begin submission of an online application from the Job Opportunities Page.
Drivers
DockChecker
Operations Supervisor
Sales Representative
Terminal Manager
FleetMaint